Way Beyond Aesthetics With Wearable Tech. Why I am Interested in Fabrics and Materials
Christian Louboutin once said, "Shoes transform your body language and attitude. They lift you physically and emotionally." Well, today, they do more than that.
Wearable technology has been revolutionizing the fashion industry in powerful ways. In fact, wearable tech may be the future of the clothing, accessory, and millinery industries to name a few. And tech. can also mean materials. Materials that allow you to slide into a boot with less effort, fibers that refresh after washes, altered friction coefficients so you get fewer blisters or wool with a built-in gradient that keeps the feet dry. The applications are endless...
If you're tech-savvy and have a sense of style, this is one industry where you can make your mark.
Making fashion smarter
How many times do you check your smartwatch each day? When you finish that 2-mile run you'd planned? Every time you climb up the stairs? Have you ever considered that what you're wearing on your wrist has merged the fields of fashion and technology?
Wearable technology in the form of smartwatches, smart necklaces, smart gloves, and smart anklets (to name a few) are making fashion more purposeful. From being able to track your heart rate to mapping your ovulation dates to freshening the air with a built-in air purifier, these wearable techs are transforming fashion fundamentally.
But these aren't it. Other fashion accessories such as handbags and suitcases are coming with technology like LED lights. These are motion sensors activated or are Bluetooth operated, and offering greater convenience to users. How brilliant is this? You're in a hurry and your phone's lost in the abyss of your bag. But with voice-operated LED lights, you can light up the inside of your handbag and find your truant phone.
The new face of clothing
But why do you need wearable tech in fashion? Well, one of the key cases for wearable tech is that they're enabling us to lead more efficient and optimized lives.
Smart fibers used to make clothes contain biometric mapping sensors that track physiological elements such as:
Hand & body range of movement
Frequency of movement
Direction & amount of pressure applied
Muscular tension
Skin friction against the cloth
Body temperature
Environmental temperature
In the world of sports, in particular, wearable tech makes clothing more than just an aesthetic entity. They make clothing and footwear safer, healthier, and more optimal for different types of sports.
Outside the realm of sports, there are wearable techs that change color or display an emoji according to the heart rate/mood of the wearer. What a brilliant way to show people how you feel, without exerting yourself?
These days, thanks to the development of IoT technology and 3D printing, there is tremendous scope for growth in the wearable tech fashion industry. Additionally, technology like Artificial Reality and Virtual Reality make smart clothing more accessible by allowing them to see how the clothes or accessories may look on them, without trying them out. Wearable tech can be extended to healthcare—everyone has a mobile phone. L1ook at some of the capabilities in the chart below: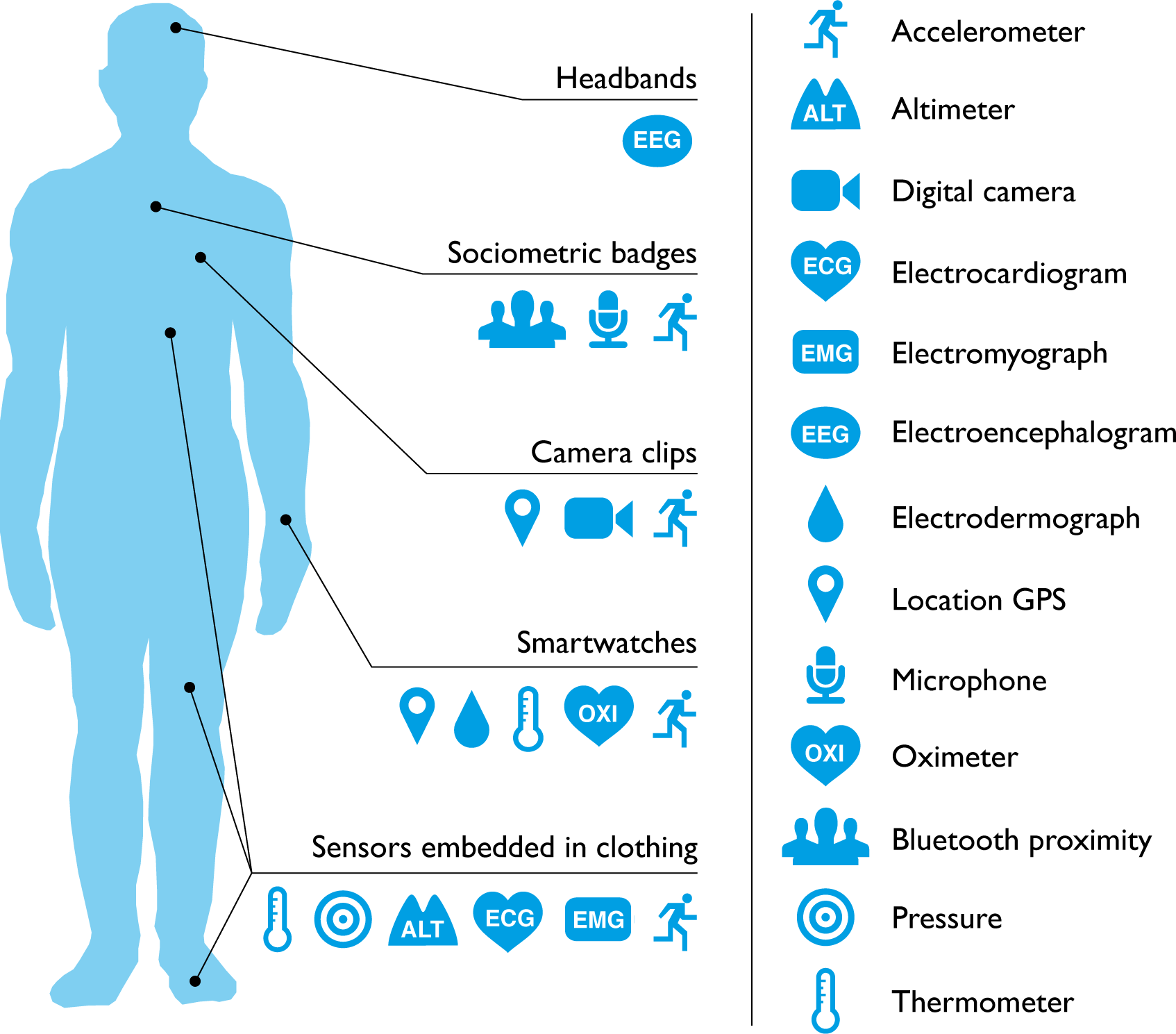 For entrepreneurs, the world of wearable tech fashion is a minefield of opportunity. In fact, research indicates that the wearable tech market will grow at a CAGR of 18.01% and be valued at over $265.4 million by 2026.